"Massage used to be thought of as a luxury to help you relax, or  be spoiled on vacations. Today science has proven the many benefits that massage therapy can provide."
"After working in the corporate world, I wanted to go into a field of health and helping others to feel better – not only in body, but also in mind and soul."
Kim Claflin
" I focus on helping people discover natural approaches to health and wellness."
Bill Jacques

Massages are by Appointment Only
The Retreat is open Monday through Saturday – 7am to 7pm. Closed on Sundays.
We are not permitted to be open from 11pm through 5am.
Pain does not have to be part of your life!
Testimonials
Brian
Sanderson reviewed — 5 star


January 26, 2015



This was my first massage. I was having a lot of back pain. WOW! what a difference, I feel so much better. She knew right where the pain was. Kim was so nice and made me feel comfortable. I will definitely be back.
KIM CLAFLIN has a bachelor's degree in Early Childhood Education and a minor in Child Psychology. She visited and researched Sarasota School of Massage Therapy for about twelve years, before she attended and graduated from that establishment. She played a lot of sports and realized the importance of stretching and taking care of the body.
"After working in the corporate world, I wanted to go into a field of health and helping others to feel better – not only in body, but also in mind and soul."
"With stretching and different massage modalities, a massage therapist can use touch to heal. At times we are manipulating the body and muscles or soft tissues and other times the therapist can just help to facilitate. Our bodies are amazing and know what needs to be done to improve. Massage therapy is therapeutic health for the body and mind. At our Retreat you are listened to – we focus on your concerns."
"Massage used to be a luxury and only thought to help relax or to be spoiled on vacations. Science has proven that there are many benefits that massage therapy can provide"
DIANNE GARABEDIAN  (LMT#88496)
Rejuvenate your mind, body and spirit with Dianne who wastrained and liscenced in Boulder CO in 2015. She will customize your bodywork session with her therapeutic, healing touch, incorporating integrative massage techniques such as stretching, myofascial release, reflexology and lymphatic drainage.
MASSAGES BY DONNA  (MA# 52776)
Donna began her journey in the Health Care Profession (LPN) in the nursing field in 2005. The hospital where she worked recognized Massage Therapy as part of a much needed modality for the well being of patients. The patients with pain, could eliminate the need for pain medications.


After moving to Venice, Florida; to be closer to her aging parents, in 2006; she decided to go with her passion into massage therapy. Graduating from the Florida Academy of Massage in 2008, she began her massage business geared more towards health and wellness! She incorporates many of the training and modalities into each session. Listening to each clients' individual needs, and focusing on their unique issues; the client receives what is most beneficial.




Assessments after each visit and a plan of care are determined to see if the bodywork being applied is meeting their expectations!




"Massages are for the health of the Mind, Body and Soul. This allows us to relieve not only physical pain; but , improves our mental well being and allows us to live our best life."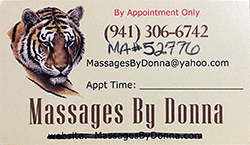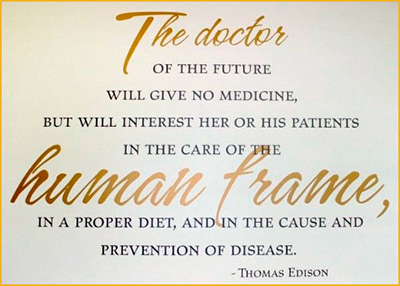 Ready Or Knot Massage
(#MM31205) 
106 Live Oak Street,
Suite C,
Venice, Fl 34285
Tel: 941-488-0953
Testimonials

Michelle DeNio  — 5 star
April 1, 2015 ·
"Kim is wonderful! She REALLY knows her stuff! She never rushes you out the door, explains what she finds during a session and offers suggestions and recommendations! Would recommend her to everyone I know!"
.........read more testimonials here
"Our focus is to provide our clients with the care and healing touch they need"